Membership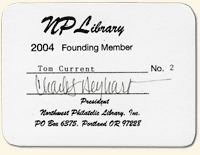 A Special membership for those 18 years of age or older is available for $12 per year. A Junior membership for those younger than 18 years of age is available at $3 per year. Special and Junior members are entitled to all privileges and services of Northwest Philatelic Library.
Northwest Philatelic Library offers a partnering Affiliates Program for local stamp clubs. Dues are $12 per year. Stamp clubs who become an affiliate are entitled to these benefits:
Access to library materials that may not be available to you locally.
Book Reports, the NPL's monthly newsletter is mailed to each Affiliate.
Affiliates, looking for practical advice on "how to" club-related questions, can contact NPL directly for useful information.
NPL staff can provide research direction and support to Affiliate members.
NPL can publicize Affiliate's club events regionally.
Forms
Special Membership (PDF)
Junior Membership (PDF)
Affiliate Program (PDF)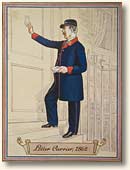 Please download and print the appropriate form. Checks should be made payable to "NPL" and mailed to:
NPL
P.O. Box 6375
Portland, OR 97228-6375
We look forward to hearing from you.