Library Checkout Policy
Most library materials are available for checkout in person or by mail. Items with HIST [Historical], REF [Reference], and PER [Periodicals] in the call number may be reviewed on the library premises, but do not circulate. Similarly, the most current catalogs and other key items are marked in the catalog record as non-circulating, i.e., cannot leave the library.
Who May Check Out Books
Current members of the Northwest Philatelic Library in good standing are granted checkout privileges. Members of an NPL Affiliate club/organization receive the same checkout privileges, provided the Affiliate group meets certain requirements (contact NPL for details). Non-members may request materials only through interlibrary loan (see below).
NPL reserves the right to refuse checkout service to anyone.

Checkout Rules and Fees
Members may check out an item for up to one month. A renewal request for an additional week may be made during the original checkout period. A late return fee may be assessed at $1.00 per week or portion thereof.
Certain catalogs may be checked out, but most may only be reviewed onsite. Only one circulating catalog may be checked out at a time, for a maximum two-week period.
Periodicals may not be checked out.
Unreturned or damaged items will be charged to the borrower at replacement or repair cost.
Checkout by Mail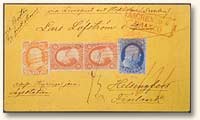 An NPL or NPL Affiliate member may check out items directly, by mail. Borrowers pay the cost, both ways, of USPS media mail with signature confirmation. The same checkout period (one month), renewal, late fee and damage rules apply. Non-members may request checkout of an item by mail only through the interlibrary loan system. The item will be shipped only to the requesting library; non-members may not make direct requests.
The prepaid base fee for interlibrary loans is $5 per shipment, plus $3 for the first item and $1 for each additional (three items maximum). The requesting library is responsible for any late fees and additional costs of repairing or replacing damaged or lost items. Renewals are not offered for interlibrary loans.