Contact Information, Hours and Map
Mailing Address
Northwest Philatelic Library
P.O. Box 6375
Portland, OR 97228-6375
E-mail
Email for NPL can be sent to:
Telephone
(503) 867-4764
Library hours
2nd and 4th Saturdays 10:00 a.m. – 2:00 p.m.
2nd and 4th Tuesdays 6:30 p.m. – 8:00 p.m.
Location
Northwest Philatelic Library
4828 NE 33rd Avenue
Portland, Oregon
The cross street is Alberta Court. Trimet bus #70 runs along 33rd Ave and stops near the building.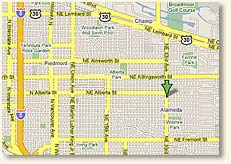 Click for larger Map>
Link to Google Maps>
Link to MapQuest>
Non-members are welcome to visit the library during any of the regular open times. Library materials may be checked out only by members, of course.